Justice4Pedie Update: May 3, 2018
Richmond police used excessive force against man killed by officers, citizen board says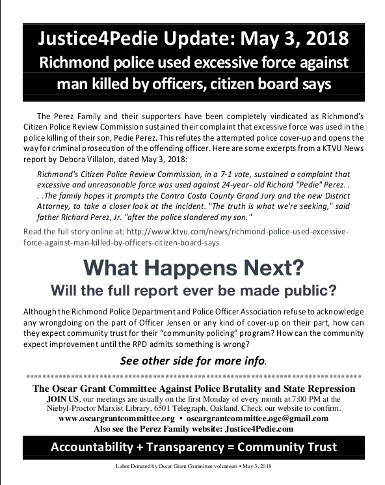 View or download as PDF
The Perez Family and their supporters have been completely vindicated as Richmond's Citizen Police Review Commission sustained their complaint that excessive force was used in the police killing of their son, Pedie Perez. This refutes the attempted police cover-up and opens the way for criminal prosecution of the offending officer. Here are some excerpts from a KTVU News report by Debora Villalon, dated May 3, 2018:
Richmond's Citizen Police Review Commission, in a 7-1 vote, sustained a complaint that excessive and unreasonable force was used against 24-year- old Richard "Pedie" Perez. . . .The family hopes it prompts the Contra Costa County Grand Jury and the new District Attorney, to take a closer look at the incident. "The truth is what we're seeking," said father Richard Perez, Jr. "after the police slandered my son."
Read the full story on KTVU.com »
What Happens Next?
Will the full report ever be made public?
Although the Richmond Police Department and Police Officer Association refuse to acknowledge any wrongdoing on the part of Officer Jensen or any kind of cover-up on their part, how can they expect community trust for their "community policing" program? How can the community expect improvement until the RPD admits something is wrong?