Get on the Bus to Sacramento: Public Safety Hearing, June 19th 2018
Pass AB 931, Stop Police Use of Force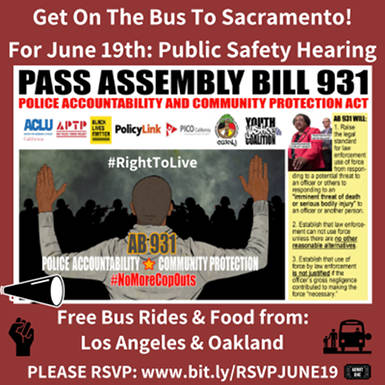 View or download as PDF
On Tuesday, June 19, Assembly Bill 931, the Police Accountability and Community Protection Act, will be heard in committee for the first time.
We need to let the Legislature know that higher standards for police use of force is critical to save lives—they must pass AB 931 out of the Senate Public Safety Committee. AB 931 will make it more difficult for CA police to justify violent use of force against our communities. Show up to Sacramento on June 19 to pack the room and deliver a short 'me too' statement to the Senators to voice your support.
Travel support from Oakland to Sacramento
One charter bus will leave from Oakland on Tuesday morning, June 19. This bus will return on Tuesday, June 19.
Oakland pick up locations:
Fruitvale BART 5:45 am, 3401 East 12th St, Oakland, CA 94601
West Oakland BART 6:00 am, 1451 7th St, Oakland, CA 94607
RSVP and register for free travel and food
More info: