Fight for Justice • Justice 4 Terry Amons
Rally & Speak Out at Pittsburg City Council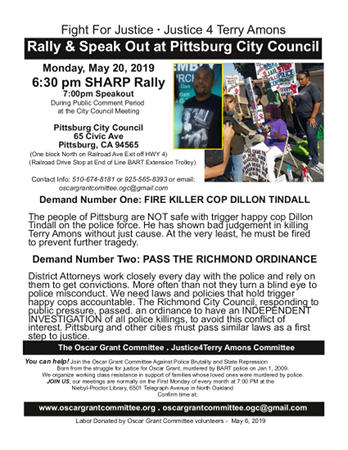 Monday, May 20, 2019
6:30 pm sharp • Rally
7:00pm • Speakout
During Public Comment Period at the City Council Meeting
Pittsburg City Council
65 Civic Ave
Pittsburg, CA 94565
(One block North on Railroad Ave Exit off HWY 4)
(Railroad Drive Stop at End of Line BART Extension Trolley)
Demand Number One: Fire Killer Cop Dillon Tindall
The people of Pittsburg are not safe with trigger happy cop Dillon Tindall on the police force. He has shown bad judgement in killing Terry Amons without just cause. At the very least, he must be fired to prevent further tragedy.
Demand Number Two: Pass the Richmond Ordinance
District Attorneys work closely every day with the police and rely on them to get convictions. More often than not they turn a blind eye to police misconduct. We need laws and policies that hold trigger happy cops accountable. The Richmond City Council, responding to public pressure, passed. an ordinance to have an independent investigation of all police killings, to avoid this conflict of interest. Pittsburg and other cities must pass similar laws as a first step to justice.
View or download the flyer as PDF