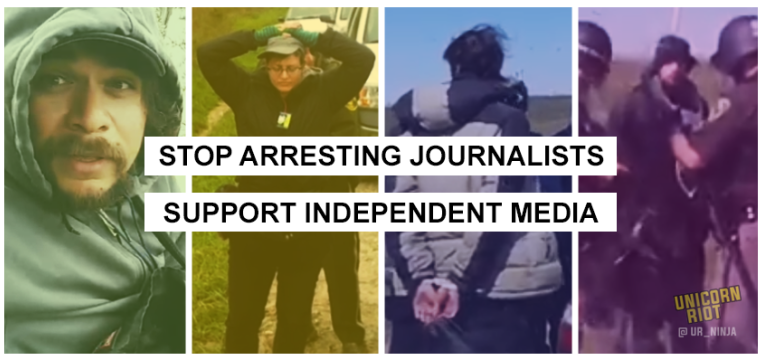 Recently we have observed a disturbing increase in the criminalization of

journalists

and activists covering the events at the Dakota Access Pipeline and elsewhere. If you haven't read about it yet, here is what has gone down so far:

• On September 3rd, Amy Goodman from

Democracy

Now

! was on location at the DAPL construction site when private security forces instigated a violent confrontation with peaceful water protectors. She was not involved in the confrontation and she was not arrested, but for simply being present and reporting on the incident she was charged with misdemeanor rioting, which would have landed her a year in prison. Yesterday the presiding judge dropped the charges.

• Actress Shailene Woodley, who had been camping at Standing Rock and reporting what she saw over social media (her Twitter account alone has 1.2 million followers), was arrested on October 10th while walking back to her RV after attending a prayer action. She is being charged with criminal trespassing, which carries a $3,000 fine and 60 days in jail, if sentenced.

• Award-winning documentary filmmaker Deia Schlosberg was documenting a direct action at a section of TransCanada's Keystone Pipeline in Walhalla, ND, where activists turned off the pipes using the emergency shut-off valves. This was part of a multi-state protest at other oil pipelines in Minnesota and Washington, in solidarity with the people at Standing Rock. Though she did not participate in the action, she was arrested and is being charged with 3 felony counts: "conspiracy to theft of property," "conspiracy to theft of services," and "conspiracy to tampering with or damaging a public service." If convicted, the cumulative prison time for these sentences would be 45 years (more than Edward Snowden faces for whistleblowing on the NSA!). There is a petition to drop all charges here: //www.howtoletgomovie.com/

• 4

journalists

from the alternative media outlet Unicorn Riot have been arrested since last month while covering various direct actions. All four were strip-searched unnecessarily after their arrest, and they are being charged with criminal trespassing. There are more details about their arrests here: //www.unicornriot.ninja/?p=10071

These are only the high-profile cases, and these are only pertaining to the DAPL. There are many more lesser-known activists,

journalists

, and filmmakers in other social movements being intimidated and arrested, their equipment and footage confiscated, and they sit in jail cells waiting for ridiculously trumped up charges to be fabricated and used against them.

This extreme reaction from the authorities is highly unethical and dangerous. That's not really a surprising comment given the track record of governments everywhere, but we must continue to assert our right as

journalists

, documentarians, and media-makers to report on current events without retribution.

One of our members traveled to Standing Rock just last month to document this incredibly brave movement and produced this short piece, which we screened at our most recent film night. We're glad he didn't have any trouble, and happy to support this kind of film work in any way we can.

We hope it has been useful to you to have all this information synthesized in one place, and we hope everyone will continue to follow the situation closely and show their support.

Thanks for reading!

~ Liberated Lens ~


Sources:
1. Ratner, Lizzy. "Amy Goodman Is Facing Jailtime For Reporting on the Dakota Access Pipeline. That Should Scare Us All." The Nation, Oct. 15th 2016. Accessed Oct. 17th 2016.
2. Funes, Yessenia. "Charges Dropped Against Amy Goodman For Covering DAPL." Colorlines, Oct. 17th 2016. Accessed Oct. 17th 2016.
3. Rickert, Levi. "Actress Shailene Woodley Among 27 Arrested for Trespassing Near DAPL" Native News Online, Oct. 12th 2016. Accessed Oct. 17th 2016.
4. Knight, Nika. "Filmmaker Faces 45 Years in Prison for Reporting on Dakota Access Protests" CommonDreams, Oct. 15th 2016. Accessed Oct. 17th 2016.
5. "Filmmaker Charged With 3 Felony Counts for Documenting Tar Sands Pipeline Protest" RT, Oct. 13th 2016. Accessed Oct. 17th 2016.