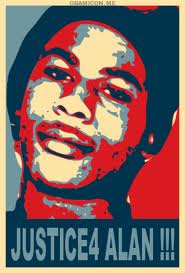 Just after midnight on Saturday May 6th, Alan Blueford and two of his friends were waiting for some girls to pick them up on 90th Ave., in East Oakland, after the Floyd Mayweather fight. Not long after Alan had phoned his parents to check-in with them, a car slowly pulled up to them with its lights off. Alan ran. One officer gave chase. A few blocks later Alan was shot by OPD officer Miguel Masso. Masso also shot himself in the foot. Over a dozen witnesses all said that Alan had no weapon and posed no threat to the officer.
Why did the police approach Alan and his friends with their lights off? Why did they give chase when Alan had committed no crime and posed no threat to the officer? Why was Alan shot three times when he had no weapon? How did a trained officer shoot himself in the foot? From the witnesses' statements, why was Alan not given emergency CPR by OPD? Why did the OPD change their story to the family several times in the days after the shooting? Why have they refused to release the coroner's report, despite the fact that it has been complete for weeks?
The family has gotten nothing but lies, distortions and stalling from the OPD. The Blueford family and the Justice 4 Alan Blueford Coalition are demanding:
Officer Miguel Masso be fired and charged with Alan's murder.
OPD Chief Howard Jordan be held accountable for lying to the Blueford family.
An end to stop-and-frisk and other police practices of racial profiling.
The repeal of the Police Officers' Bill of Rights, that shields violent cops from prosecution and
keeps them on the street.
Web site:
//justice4alanblueford.org/
contact:
[email protected]
or
[email protected]
---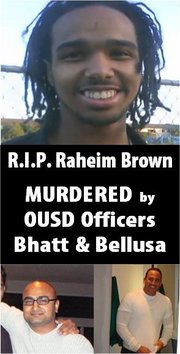 On Saturday, Jan. 22, 2010 20-year-old Raheim Malik Brown was shot and killed by the Oakland Unified School District's police force near a Skyline High School dance. Police statements and media have reported that Brown tried to stab an officer with a screwdriver, and a second officer shot Brown five times – once in each arm, once in his chest and twice in his head – in defense of his partner.
On Thursday, Feb. 3, outside the OUSD headquarters, Brown's mother, Lori Davis, spoke at a press conference. Calling the killing an "assassination," she was horrified by the excessive use of force by school police officers. Davis believes that Sgts. Barhim Bhatt and Jonathan Bellusa, the two cops identified at
the press conference as the two involved in Brown's killing, should "never be able to work in another police department ever."
Tamisha Stewart, the only civilian witness to the killing, who was in the car with Brown outside the Skyline High dance, spoke for the first time publicly about the event. The screwdriver Brown was accused of using as a weapon, according to Stewart, was being used in an attempt to hotwire the car, and it "never left the ignition."
While hotwiring a car might be cause for police attention, it is not cause for five bullets, including two to the head. Stewart added, "There was nothing that Raheim did that he deserved to die." According to statements at the press conference, after Brown was killed, Stewart was beaten badly and jailed for almost a week.
An Oakland teacher's union representative also spoke at the Thursday press conference, saying that the union had voted to "support fully an independent investigation" into Brown's killing and the OUSD Police Department.
Brown was one of three people killed by police in a single week in Oakland. In early 2010 former Oakland Police Chief Anthony Batts called on the FBI for an external investigation into the November police killing of Derrick Jones. As initial police statements contrast sharply with Stewart's account of Brown's killing, further investigation into this case might also be warranted.
---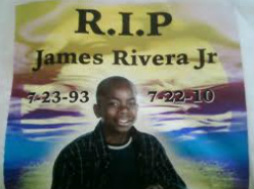 On the morning of July 22, 2010 at around 11:30, 16 year old James Rivera was assassinated in premeditated murder, according to his family and witnesses. According to James Rivera's mother police came to her house late at night/early morning before the murder and terrorized the family. Police held guns at 2 even younger children and told them they were going to kill him.
Later, according to friends, he was pulled over then released and then chased. As he crashed into a fence and made a u turn , police rammed the back of the blue van which caused the van to go out of control. The van went onto a lawn of a corner house on Salters Dr. and Bancroft Way, finally crashed straight into the garage wall where the van seemed to be lodged into.
Officers exited their vehicles and asked James to exit the van twice but 2 seconds later they began to shoot. Over 30 rounds have been estimated to be found. They executed those rounds with 9mm handguns and fully automatic M-16 assault riffles.
Witnesses say that the ambulance arrived with out their sirens and left without them, as if there was no urgency. The people believe that he was dead at the scene. They saw officers pull him out and slap his face and then do nothing.
Reporters are saying that police stated the pursuit began at 10:30 after finding the van that had been part of a carjacking with a shotgun. It has not been said if this was the van, and the police do not mention any previous encounters with James Rivera. The media has yet to report the truth, i know we heard the people speak the truth and that's not what they are printing.
People came out in rage of what they had just witnessed. "NO JUSTICE NO PEACE" the people chanted until the officials Chaplin later came to them and asked them to be quiet.
in the Stockton Record Stockton Police Spokesperson Pete Smith agreed that the crowd was "upset and very vocal about their concerns" but was also recorded threatening the community "Let officers complete their investigation and not unduly create any other situations that would need any kind of police investigation"
Although the people continued to chant after the Chaplin told a couple that it would do them no good, people realized the importance of speaking up for injustices like this one.
The Stockton police officers involved in the shooting were Officer Eric Azarvand, a 14-year department veteran; Officer Gregory Dunn, with the department eight years; and San Joaquin County sheriff's deputy John Thomas Nesbitt, with 11 years at the sheriff's department.
UPDATE:
On January 6, 2012 Mothers Cry for Justice, James Rivera family, Ernest Duenez family, Oscar Grant Committee, Modesto Copwatch , MDS /SDS [Movement & Students for a Democratic Society] & Nation of Islam united to sponsor a spirited and loud protest action in downtown Stockton demanding answers from the DA who has remained silent about the police killing of unarmed youth & adults. Ms. Dionne Smith-Downs, James Rivera's mother gave an impassioned and powerful speech demanding jail for the cop murderers and justice for James. It was militant action with no arrests even though the police mobilized and pushed back the rally for a few minutes before leaving.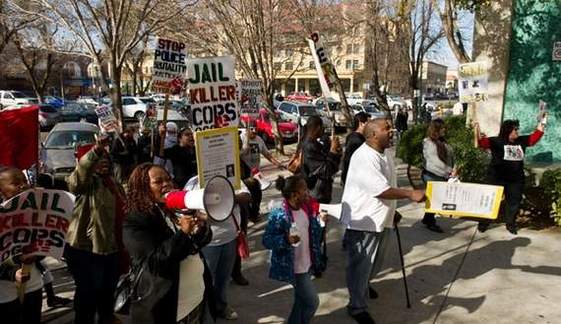 STOCKTON: January 6, 2012 Family, Community & Activists Demand Justice for James Rivera.
---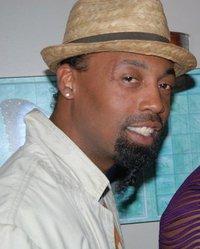 Derrick Jones was shot to death on November 8, 2010 by Oakland Police Officers Eriberto Perez-Angeles and Omar Daza-Quiroz.
Jones was unarmed when he was shot. Officers said they saw a metal object in his hands, which they believed was a weapon. This morning, Oakland Police identified the object as an electronic pocket scale.
Perez-Angeles and Dara-Quiroz were both involved in a previous shooting incident on July 19, 2008 that resulted in the death of Leslie Allen, according to records from the Oakland Police Department and the Alameda County District Attorney.
The Jones shooting is being investigated by the Alameda County District Attorney's office, as well as the Homicide and Internal Affairs sections of OPD. District Attorney's reviews often take several months to complete, and have been known to stretch on for years. Former Chief of Police Batts asked the FBI to investigate the shooting.
Perez-Angeles is the fourth current member of OPD's SWAT team to be involved in an officer-involved shooting since 2003, according to OPD records. Both he and Daza-Quiroz remained on paid administrative leave, which is standard practice after an officer-involved shooting.
From the February 2011 Alameda County DA's report on the shooting of Derrick Jones: "There is a lack of evidence to support a prosecution against eitherofficer. This office will take no further action."
---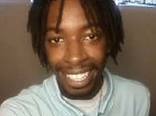 On January 16, 2011, Kerry Baxter Junior was executed in front of Saint Anthony Church in East Oakland. According to witnesses, Kerry was set upon by two African American males by San Antonio Park. He had accompanied two female friends and was standing by his car when approached by the gunmen. They first told him to give them all of his money before telling him to run for his life.
He was chased around the corner and shot in front of the church, where he died. One witness stated there was a dark blue or black van that sat there until the ambulance and police arrived. The Police Department has done little to solve the killing even though there were two eyewitnesses. When the family calls, they are ignored or told there is nothing new. They have not posted a description of the assailants or a reward for their capture.
On January 16, 2012 the Oscar Grant Committee, and Kerry Junior's family gathered to honor his memory and demand answers from the Oakland Police Department, the Citizens Police Review Board, and the Internal Affairs Division of the Oakland Police Department. The community joined in remembrance of Kerry Junior and others whose lives were taken by street violence. We want solutions to the needless killing of our children.
"Kerry's murder has left a void in our family that can never be filled. We will not see him marry, have children, graduate from college, or smile ever again. Those who murdered him do not understand the pain his family is going through," said his grandmother Anita Wills, who is a member of the Oscar Grant Committee.
---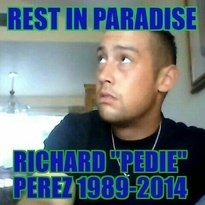 Richard "Pedie" Pedro Perez III was unarmed and non-violent when he was murdered by police officer Wallace Jensen on September 14th, 2014. He was shot at Uncle Sam's Liquor & Market near our family business, Perez Brothers Trucking, located across the street in a residential and commercial neighborhood which is where our business has been for over 30 years. He spent much time frequenting the store, from the young age of 3 for snacks, soda, ice cream, etc., all along growing close to local residents, employees, and owners of the store. After growing up in Pinole and graduating from Pinole Valley High School, his friendships ranged from Pinole to Richmond. As an adult working for our family business in Richmond, Pedie had established friendships and began to love them and worry about their well-being. Going out of his way physically and financially to help those in need. He was known and loved by all around, including store owners, who generously offered to cover all costs of his services. All who knew Pedie were devastated, the community lost a wonderful person that day. Pedie was a Christian and loved the Lord and was a member of Grace Bible Church where Pastor Jesse Gistand resided over Pedie's service. Pedie was a good person all around. Not many people are blessed with hearts as big as his and we will do everything in our power to bring him justice. Senseless police brutality is getting out of control and we all need to come together and take a stand. Help us bring the truth to light.
Website:
Justice for Pedie Perez
Hashtags: #Justice4Pedie #EndPoliceBrutality
---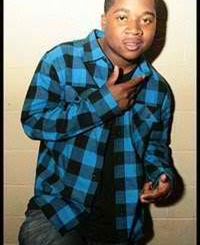 In the early morning hours of September 2, 2012 Mario Romero was brutally killed by the Vallejo Police Department as he and his brother-in-law sat in front of their home on their way to return to their wives and children. However, before they were able to leave their car, they were sprayed with bullets by bloodthirsty police officers on a mission to seek and destroy. The Vallejo police officers admit they never identified themselves, never asked for a driver's license, insurance or registration. Instead. they told the men to raise their hands at the same time they fired upon them with brutality that mirrored the actions of Nazis. The officers reloaded round after round into their clips as witnesses screamed for them to spare the lives of these two innocent men. They continued to spray the car with bullets, living out a scene from a video game, jumping up on the car's hood.
The community of Vallejo is outraged by the excessive force that has been used on its citizens and all of the distortions in the stories. The police have attempted to paint this man as a drug dealing gangster with ties to a neighborhood that he had just moved into in an attempt to smoke screen a murder that they commited. They stole his body from the scene of the crime and have held it hostage from his loved ones. They have intimidated the San francisco Bay Area media by telling them not to cover the rallies on the front porch of the Vallejo Police Department filled with hundreds of saddened citizens in fear for their safety. They did not allow Mario's mother to see the body of her brutally murdered child for almost a month.
Website:
Justice for Mario Romero