---
---
Demand Resignation of Contra Costa DA Mark Peterson
January 18, 2017 @ 12:00 pm – 1:00 pm
Demand Resignation of DA Mark Peterson
District Attorney's Office
900 Ward St, Martinez, CA 94553
Wed, Jan 18, 2017 at 12 Noon

Dear Friends,

It is time to act.  How much shameless corruption are we going to tolerate? As a community, we must fight back.

Contra Costa's District Attorney Mark Peterson has violated the law. He has admitted to embezzlement, fraud, and perjury. He claims to be "humbled and embarrassed by his errors of judgment;" he says he will pay a fine for his "mistakes and errors."  Admission of guilt does not negate the fact that he broke the law and was caught red-handed only after an audit was conducted.

As the top law enforcement official, DA Mark Peterson is required to uphold and enforce the law but has failed miserably at his job. He lacks the ability to act in an ethical and lawful manner.  He has proven repeatedly that he has no integrity. For instance, he publicly blamed unarmed 24 year old Pedie Perez for causing his own murder and has contributed to the cover-up by not charging the officer despite overwhelming evidence that contradicts Officer Wallace Jensen's LIES.  Eyewitnesses reported to the family and police that Pedie never tried to take the officer's gun and even DNA supports their statements. DA Mark Peterson lacks the ability to analyze facts, and exercise impartial judgement based on the evidence provided.

Citizens are prosecuted for embezzlement, fraud and perjury. Why shouldn't he be charged according to his crimes? We don't get to pay fines and keep our $300K annual salary!!! When is he going to be prosecuted? When is his license to practice law going to be revoked?

A demonstration of concerned Contra Costa County residents and supporters is scheduled for Wednesday, January 18, at 12 noon to demand Mark Peterson's resignation. We will assemble at DA Mark Peterson's Office at 900 Ward St, Martinez.

Attorney Pamela Price will be speaking at the event. Ms. Price is the gutsy attorney who rescued the main witness in the police sex scandal after the Richmond Police Department sent her to Florida.

Thank you for your support, on behalf of
Justice4Pedie.com and the Oscar Grant Committee

Also, please sign the Change.org petition demanding Mark Peterson RESIGN!

---
---
Recently we have observed a disturbing increase in the criminalization of journalists and activists covering the events at the Dakota Access Pipeline and elsewhere. If you haven't read about it yet, check out this page.

RESOLVED: The Oscar Grant Committee stands with Democracy Now outstanding journalist Amy Goodman and film maker Deia Schlosberg for courageously following the vitally important struggle against the Dakota Oil Pipeline, and reporting on it to keep the people informed.

These two women are peoples' heroes and deserve to be commended for their actions, not arrested and persecuted for covering the news!

Schlosberg is charged with 3 felonies and faces up to 45 years in prison.

We condemn the state authorities for bringing these outrageous charges, that are clear assaults on thee "Freedom of the Press" and the First Amendment, and thus, an attack on the American people as well as the world eco-system.

We call upon all freedom loving people to speak out, protest, and demonstrate against this arrest and prosecution. We demand all charges be dropped!

The OGC is sending the Standing Rock Sioux Tribe $100 in solidarity.

---
---
Read the Oscar Grant Committee's statement of solidarity with ELD teacher Yvette Felarca who was docked 17 days pay & suspended facing dismissal from her MLK Middle School classroom without any administrative hearing by the Berkeley Unified School District for the crime of fighting back against violent Nazis holding a rally on the steps of the state capitol. Click on the image below to read the PDF document.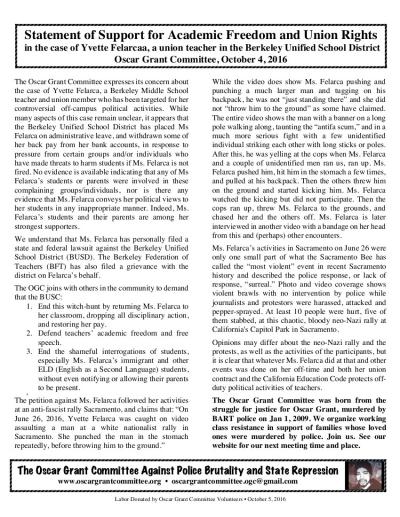 ---
---
This is a public letter that the Oscar Grant Committee is sending to Colin Kaepernick

Dear Colin Kaepernick,

The Oscar Grant Committee Against Police Brutality and State Repression applaud you for taking a stand in an attempt to shine a light on what we feel is one of the greatest atrocities of our day, the unwarranted killing of black and brown people across this country by the repressive apparatus of the state, the police.

It is a bold and courageous statement you are making. One that is sure to cost you professionally. However, regardless of the cost to you personally, you have chosen to throw in with the powerless and the oppressed to bring an end to this evil in order, to advocate for true justice and liberty for all, in short to truly live up to the ideals which our flag is supposed to represent.

Be aware, Mr. Kaepernick, you are now in the cross hairs of those who are the enemies of social justice and like many of the progressive peoples' heroes of the past you will suffer retaliation. But true heroes have always been willing to pay that price. Your principled stand will inspire others to get off the sidelines and take the field of action and make some plays to advance social justice in this country.

The Oscar Grant Committee Against Police Brutality And State Repression has been organizing and speaking out in behalf of the victims murdered by bad cops ever since we were formed in 2010 in response to the unjustified killing of Oscar Grant by Johannes Mehserle, who was a BART Policeman at the time. We are not anti-police, we are pro-life, black and brown lives in particular. We are tired of seeing them cut short by the people who have sworn to protect them.

Reactionary elements in our society rail against the messengers of inconvenient truths, become outraged about perceived slights to our cherished symbols of authority, yet often remain far too silent about the injustices that makes it necessary to speak out in the first place.

The Oscar Grant Committee Against Police Brutality And State Repression will continue to speak out against police misconduct and stand with the families whose loved ones have been murdered by bad cops, and we will continue to stand with you Mr. Kaepernick.

The Oscar Grant Committee Against Police Brutality And State Repression extends the invitation to Colin Kaepernick to collaborate with us & explore ways we can work together to advance the struggle.

OGC Contact: Gary Hall
(510­) 712­-9394 - (415) 623-6473 (web site editor)
hallgaryoo@gmail.com
http://www.oscargrantcommittee.org/

Note: The Oscar Grant Committee Against Police Brutality and State Repression is not to be mistaken for the Oscar Grant foundation. We are two different organizations.
---
---
The Justice 4 Mario Woods Coalition is taking our demands to District Attorney George Gascon. Bring a friend(s) and meet us at the rally! We'll see you at 850 Bryant Street on Friday, October 7th at 12:00 pm.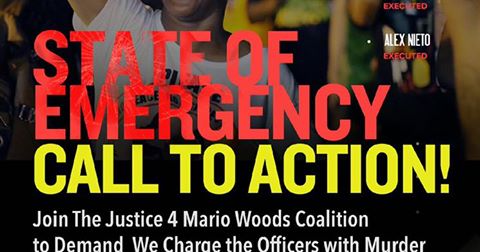 Justice For Mario Woods Coalition
Facebook: https://www.facebook.com/Justice-For-Mario-Woods-Coalition-336100619846955/
Twitter: @Justice4MWNow
Instagram: @Justice4MarioWoodsNow
---
---
---
---
New Stuff on the Site
Video: ILWU March & Rally Against Police Brutality San Francisco, Mayday 2016
Video: Justice for Mario Woods: interviews with hunger strikers
Document: Anti Police-Terror Project's investigation of the Demouria Hogg killing (June 6, 2015, Oakland)
---
Resolution passed May 3, 2016
RESOLVED:
The Oscar Grant Committee Against Police Brutality and State Repression opposes and condemns the use of collective punishment by any police or military force. We consider such policies war crimes against the people of the world.
We oppose and condemn any politician, Donald Trump or any other who advocates such a war crime as policy. We must fight them every step of the way.
The Nazis routinely practiced collective punishment in their conquered territories, sometimes wiping out entire villages. NEVER AGAIN!
---
Resolutions passed on April 5 2016
RESOLVED:
The Oscar Grant Committee Against Police Brutality and State Repression opposes and condemns Donald Trump's call for increased state repression of U.S. Government prisoners through the use of waterboarding and other even harsher methods of torture. The progressive movement must vigorously oppose these torture techniques as a dangerous move in the direction of a repressive police state.
RESOLVED:
The Oscar Grant Committee Against Police Brutality and State Repression recognizes and endorses Senator Bernie Sanders's call to investigate every police killing of an unarmed civilian and any death of a prisoner in police custody. We support building a mass movement to implement these demands.
---
Gerald S., Stan W., and Steve J. of the Oscar Grant Committee went to the SF Police Commission meeting on 12/9/15 following the shooting of Mario woods and gave this report:
[Gerald Smith:]
At 5 pm Wednesday nite there was a rally on the front step of SF City Hall. About 500 attended this rally and tried to get in the SF Police Commission meeting. Our forces, the working class opposition to police brutality, were not well organized, as per the related events that preceded this meeting (the Vigil 12/3/15 about 1,000 participants, the Town Hall Meeting 12/4/15 just under 1,000 participants) Because there were so many people the SF Police Commission bureaucrats had to set up an overflow room in which was a TV screen broadcasting the Police Commission meeting.
[Stan Woods:]
The racial/ethnic composition was good with at least half of the crowd black, latino, and asian. Approx. half of the crowd was white. Also, many youth participated.
[Steve Jacobsen:]
There was a crowd of protesters at SF City Hall, many speaking to the Police Commission. About 200-300 couldn't get into the hearing, but they stayed in the hallway doing mike-checks. Several young women led the crowd yelling chants for Police Chief Suhr and Mayor Ed Lee to resign. They were fired up. They fired up everybody in the building. It is the spark to create the fire that will result into another Ferguson. Also the people called for the six guilty officers to be indicted for this murderous crime. It felt like the beginning of the Sixties.
Original video of shooting (16 sec)
Advise Show News (11 min)
San Jose Mercury News story on Policemen's union statement regarding the shooting (with video)
ACLU App Empowers People against Police Brutality
The app is a tool to preserve documentation of police brutality.
The Californian branch of the civil liberties group ACLU launched a free smart phone app on Thursday to guarantee they can document and preserve recorded instances of police brutality.
The app allows ordinary people to both record and document encounters with state authorities from their cellphones while having it instantaneously transmitted to the ACLU's servers. In light of past instances in which authorities have deliberately confiscated or destroyed such evidence, the app would guarantee the recordings' preservation. It also allows people to send an alert to anyone in close range to the incident in order to potentially facilitate an organized community response. Get it
here
.
---
Videos, Witness Statements in Pedie Perez Shooting
Videos of Pedie's shooting and death
---